It was pointed out to me that I hadn't posted in over two weeks so here it is, somewhat overdue.
It was almost two weeks ago so lets see what I can remember about the fifth weekend. Saturday morning was wet and stayed cool but not uncomfortable once the rain moved out. Unfortunately because of the light rain that lasted well into lunch, crowds for the rest of the day were quite a bit smaller than what I had hoped for. This gave Steve an opportunity to play around with something he's been working on, a vortex cannon. He shot cups off of kids heads all day which was pretty cool until he filled it with smoke from a smoke bomb. Then it was awesome! Watching smoke-rings go out fifteen to twenty feet from the stage and knock a cup off of a persons head was very impressive and everybody that saw it thought it was pretty neat too.
I also unveiled a new dragon at the Wizards Tower. Steve has one he's been using for years but it's been rained on, it's faded, and the head droops, so I made a new one. It looks kind of like the one below, except mine is green and I changed it to say "Estevon".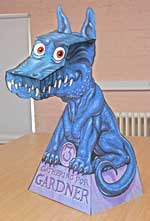 Even printing it on poster board, the one drawback is that with all the moisture in the air his head got a little heavy so it ended up drooping by the end of the day. I fixed it the following week so now his head stays upright all the time.
Sunday's weather was perfect and the day started quick and ended big. Steve and I alternate shows all day and we ended up doing seven shows each that day. I can't say there were any major problems or issues that came up on Sunday. I will say that the next morning I felt like I'd been run over by a truck.
The sixth weekend also started with a little rain in the early morning hours. Forecasters had predicted lots of wind and rain but the storms in the area didn't develop much of either. Saturday started cool and stayed that way all day. At one point before my first show I caught myself shivering, so I wrapped up in my jacket until I felt better. I had several good shows and I was getting huge audiences for the jacket escape although that wasn't translating to an increased hat. I'm not saying that the hat wasn't good, but watching people just walk off as I begin my hat pitch really sucks. I'm sure it's something that every entertainer has to deal with at some point, I've just got to learn to not let it bother me. Of course if it didn't bother me I wouldn't have written about it here so I'm not doing so well in the not letting it bother me department. Ha Ha. Other than those minor things the day and the whole weekend went really well. Steve did tell me this weekend that I don't know how good I really am and that doing these kinds of shows have chewed up some of the best magicians in the city. Adding that very few have what it takes to make it in the faire environment and I should be be proud I haven't collapsed yet.
I have another post on mentors and what they've meant to me in the works, not sure if it will get done before the weekend but I hope to have it up soon.
Here are links to download your own dragon: in RED, BLUE, or GREEN.